Viña Ventisquero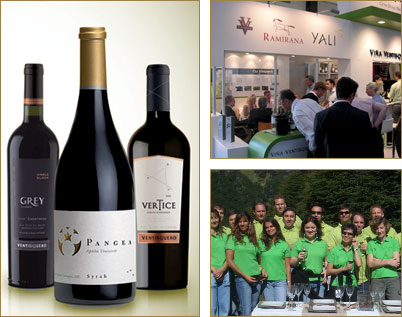 Viña Ventisquero was created as a passion of Gonzalo Vial, a successful  and respected entrepreneur from Chile.
10 years ago they decided to enthusiastically dedicate their energies into premium wine production, giving birth to their first plantations of grapes and the building of a modern winery.
Ventisquero has already gained international recognition as a top Premium wine producer from Chile and has become one of the top 10 most successful exporters of bottled wine from Chile.
Ventisquero has 1,600 hectares planted in 7 different vineyards, located in the most prestigious terroirs of Chile like Casablanca, coastal Maipo and in the unique Apalta region of Colchagua. The winery has developed innovative super-premium wine products through their collaboration with the Australian winemaker John Duval famous for Penfolds Grange.
From its inception, Ventisquero was designed to produce wines in the most environmentally-friendly manner, and it was the first Chilean winery to offset its carbon dioxide production starting back in August 2007. In addition, the winery has recently achieved a reduction of the weight of its bottles by 11%. Ventisquero is one of the pioneers in Chile for sustainable production in the wine industry and strives to continue to provide leadership in this realm.
Wine Logistics International
CEC collaborates with the company Wine Logistics to maintain a bonded European warehouse based near Antwerp, Belgium. Wine Logistics provides various logistics and warehousing services for primarily new world wine companies distributing in Europe.
Since 2003 this company has worked in close partnership with CEC and our clients, to provide storage of their wines based in Europe, together with logistics and freight-forwarding services, as well shipment of wine samples and placement of tax banderols.
Their knowledgeable and reliable team, important location and competitive prices have all been key to our continuing success in Europe. In the last 8 years we have processed nearly 900 orders through Wine Logistics – over 150.000 cases.